Who remembers singing to the tune of F.R.I.E.N.D.S. 'I'll be there for you'? That iconic orange rustic couch that we all wanted to sit on and banter with the bunch? Ross and Rachel bickering, Phoebe singing 'smelly cat', Joey and his signature "how you doin'", Monica's cleaning obsession and, last but not least, everyone's favourite Chandler and his dad jokes?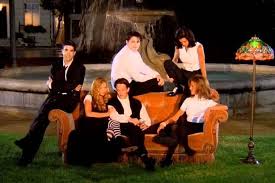 Our favourite sitcom started in 1994, finished 10 years later after 10 epic seasons and will turn 23 this year! In spite of this, the sitcom remains timeless and a family favourite, shaping the careers for some them, namely the famous Jennifer Aniston.
If you loved watching Friends and feel like you know Central Perk (the coffee shop) inside out, then you'll know how important that good ol' couch was to show. Like the characters of the show, life long friendships can be built around a couch that can bring together the bunch on both good and bad days.
Whilst the couch in Central Perk seems to be just a little worn out for 2017, Desired Living can help you create lifelong memories with furniture that is all quality, comfort, modern and customisable for you and your friends. The Oak Flower is the perfect couch for you and your very own friends to binge watch this awesome series!