Making the most out of your living space can be such an uphill battle with both the space and furniture fighting against you. Instead of fighting against 2 overwhelming forces, why not even the odds and purchase a corner suite!
The beauty with corner lounge suites is that it is more versatile than a conventional sofa as it breaks the traditional long stretched outline and creates a more sophisticated look to your living room! Consider placing your new corner lounge suite in an open space and use it as a room divider. Corner suites can give gentle definition to spaces without disrupting an open-plan atmosphere. They'll also be the centre of attention and eye for making conversation as guests won't be able to take their eyes off your beautiful new sofa that is making heads turn. If you're in the market for a stylish contemporary corner suite to divide your living space with, we recommend the Batilda Lounge Set with a starting price of $2,899.00.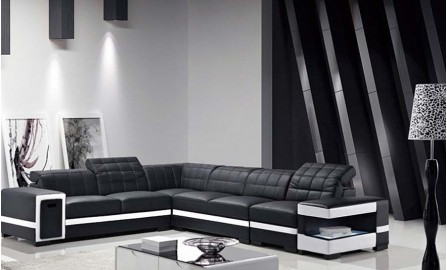 The second benefit of owning a corner lounge suite is that it's a modular sofa that brings a-lot of versatility than a single pieced furniture. Modular sofas differ from your conventional sofa's because they are made up of multiple pieces that can be joined together based on your design choice. One of the best features of the modular sofa is that it allows for in-depth customisability to fit your lifestyle needs. For example, are you the type of person who loves to drink while watching a football game? No problem just installs a console with cupholders to fill that void. You can further take advantage of the shape of the corner piece to add additional seats to turn it into a large family living space! Something not possible with your traditional sofa since which usually come in two or three seats. If you're in need for a custom sofa, see how our customisation process works.
Our final reason for you to purchase a corner suite is that it provides optimal viewing angles no matter the numbers! The corner lounge suite is perfectly angled and built so that you can focus on the main event no matter which seat you are sitting on. This way no one will miss the action, and everyone will be enjoying the night's entertainment equally. This set up is perfect for anyone who is hosting game night with your mates or simply want to spend a quiet night with the missus? There is plenty of leg room on either side of the lounge for both of you to enjoy.
If you need help choosing what kind of design would best suit your room, feel free to chat with one of our consultants in our live chat box.